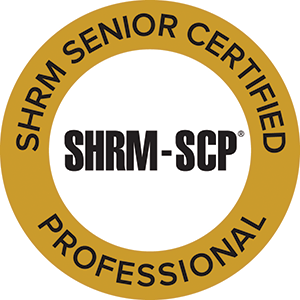 All Points Advising, LLC., is proud to announce that April Clausen, Owner and Manager, has received her SHRM-SCP certification!
You may be asking, "so what does that mean for me?!" Receiving her SHRM-SCP certification means that Ms. Clausen has met or exceeded all core competencies set by the Society for Human Resource Management (SHRM), the only nationally recognized human resources professional organization. SHRM is a 65 year old organization that developed the first competency based HR certification. The goal of the certification is to provide a "consistent standard of knowledge and proficiency across the HR profession," and reflects SHRM's Competency Model. In addition, the international research conducted by SHRM in developing their Competency Model provides confidence that the skills demonstrated by their certification holders will be applicable globally.
This exam is based upon both the knowledge and situational behaviors necessary to succeed in HR management. The SHRM-SCP (senior certified professional) "is designed for HR professionals who operate primarily in strategic roles – developing policies and strategies, overseeing the execution of HR operations, analyzing performance metrics, and/or contributing to the alignment of HR strategies to organizational goals." Obtaining the SHRM-SCP was important to Ms. Clausen as it demonstrates her commitment to helping clients achieve their business goals through the formation of short and long term strategies.
Re-certification is a requirement of the SHRM CP and SCP. As a result of her SHRM-SCP certification, Ms. Clausen is required to re-certify every three years and to participate in ongoing educational development. These requirements demonstrate Ms. Clausen's commitment to ongoing knowledge growth and thus her ability to provide and maintain excellent support to her clients.
For further questions or to discuss how All Points Advising can help you and your business please contact us at 402-880-3833.